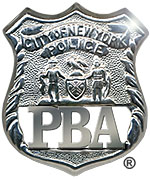 PRESS RELEASE
December 18, 2020
---
PBA Statement on Department of Investigation Report on Protests
PBA President Patrick J. Lynch said:
"The DOI report confirms what police officers knew on the first night of riots: our city leaders sent us out with no plan, no strategy and no support to deal with unrest that was fundamentally different from any of the thousands of demonstrations that police officers successfully protect every single year. Nearly 400 police officers were injured — struck with bricks, bottles, fire extinguishers and folding chairs — because of the mixed messages emanating from City Hall and Albany. No amount of new training or strategizing will help while politicians continue to undermine police officers and embolden those who create chaos on our streets."
The PBA previously released detailed written testimony on the protest response, which included testimonials from injured police officers and input from disorder control expert and former NYPD Chief of Department Louis Anemone.