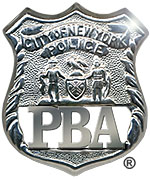 PRESS RELEASE
January 28, 2020
---
PBA Sues to Reverse Illegal CCRB Ballot Measure
The NYC Police Benevolent Association (PBA) today sued to strike down in its entirety a 2019 city charter revision ballot measure that expanded the Civilian Complaint Review Board's power and budget because one of its provisions violates state law.
The PBA petition, filed in State Supreme Court in Manhattan (available here), argues that the provision linking the CCRB budget to NYPD headcount runs afoul of the state law giving the City Council the power to set and adjust the city budget.
The proposed amendment to expand CCRB's budget, which appeared on voters' November 2019 ballots, was part of a broader array of proposed amendments that included four other provisions aimed at expanding CCRB's power and jurisdiction. Voters were required to support or reject all five CCRB proposals with a single vote, and the PBA argues that because the budget provision was illegal, the entire measure must be invalidated.
PBA President Patrick J. Lynch has characterized the ballot measure as "an illegal power-grab that anti-cop activists sneaked onto the ballot through a tainted process in an off-year election." And, he added, the illegal budget provision has important fiscal considerations.
"New York City taxpayers are beginning to see the true cost of the pro-criminal agenda," he added, "but they probably don't realize they will be permanently shackled to a bloated budget for the dysfunctional CCRB. If this is allowed to stand, it will drag down both public safety and the city's finances for decades to come."