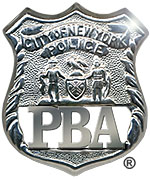 PRESS RELEASE
March 9, 2020
---
New PBA Radio Ad: Stop the Pro-Criminal Agenda
Campaign launching tomorrow calls on New Yorkers to contact their elected officials
The Police Benevolent Association of the City of New York (NYC PBA) will air a new radio commercial (listen here) starting tomorrow calling on the public to help stop the pro-criminal agenda that is making the streets more dangerous for police officers and civilians alike.
The spot — which will air on more than a dozen local stations between tomorrow, March 10, and Monday, March 16 – highlights the revolving-door justice that left attempted cop-killer Robert Williams free to target police officers in the Bronx last month.
The ad, narrated by PBA President Pat Lynch, directs listeners to the PBA website, where they will be able to send a form letter to their elected officials demanding action to fix the city's deteriorating public safety environment.
 PBA President Patrick J. Lynch said:
"Every New Yorker who walks our city streets knows that crime and disorder are getting out of control. But we didn't get here overnight. What we are seeing is the product of years of bad policies and anti-police rhetoric pushed by elected officials at every level of government. Pro-criminal advocates have hijacked our city and state. Law-abiding New Yorkers are suffering, and the police officers who protect them are under attack. It won't get better unless we stand together and say with one voice: 'enough is enough.'"
Text of the radio commercial:
"I'm PBA President Pat Lynch. Here's what's happening on our streets: in 2002, career criminal Robert Williams shot someone, carjacked a vehicle and tried to kill police officers in the Bronx. He served 15 years in prison and was released on parole. Less than a year later, he crashed a car while high on angel dust and violently resisted arrest. No, he wasn't returned to prison for violating his parole. Instead, he was released on bail for one dollar. On February 8th, 2020, he walked up to a marked police van in the Bronx and opened fire. One of his bullets narrowly missed a cop's carotid artery. Twelve hours later, he barged into the 41 Precinct and once again opened fire, trying to kill cops and civilians alike. Our criminal justice system has been failing for decades. It's putting you – and the police officers that protect you – at risk. We need your help. Contact your representatives and tell them to stop supporting the pro-criminal agenda. Visit nycpba.org to find out how you can help."