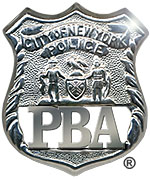 PRESS RELEASE
April 2, 2021
---
Blaz to cops: "Immunity for me but not for thee"
City claims qualified immunity for mayor, NYPD brass in protest suits
Just one day after the City Council voted — with Mayor Bill de Blasio's support — to prohibit the qualified immunity defense for certain suits against New York City police officers, the de Blasio administration filed court papers invoking the same defense to shield the mayor and top NYPD officials from federal lawsuits over the NYPD's handling of the Summer 2020 protests.
In a Mar. 26 memo supporting the city's motion to dismiss the cases, city lawyers claim "the doctrine of qualified immunity shields defendants Mayor de Blasio, Commissioner [Dermot] Shea, and Chief [of Department Terence] Monahan from liability for any claims for money damages."
Read the memo here.
PBA President Patrick J. Lynch said: 
"The mayor's hypocrisy is infuriating. He and the City Council expect cops on the street to shoulder enormous new liabilities for doing our job in good faith, while they escape any blame for their own failed leadership. It's just more proof that all their talk of 'accountability' is a sham meant to protect the powerful while the city crumbles on their watch. Cops and regular New Yorkers have had enough."
The PBA previously filed a motion to intervene in the protest lawsuits, arguing that the de Blasio administration will not adequately defend the rights of rank-and-file police officers in the proceedings.