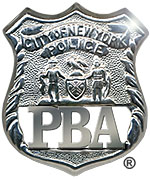 PRESS RELEASE
September 16, 2021
---
Double blow for slain Cop's family: One killer freed, one gets new parole hearing
Lynch blasts Parole Board's "shameful legacy" in Cuomo era
An NYPD police widow and her family received a double gut-punch this week when she learned — within the space of 48 hours — that not only had the state parole board granted a new parole hearing to one of her husband's murderers but it was also granting the other killer his freedom next month.
"It was a horrible thing to learn," said Janet McDonald, widow of Police Officer Sean McDonald, whose body was riddled with bullets from weapons wielded by the two stick-up-men. "I found myself crying for the whole 48 hours."
"I can't help feeling it's all a part of the 'woke' political atmosphere in Albany these days," said Sean's brother Andy McDonald.
P.O. Sean McDonald was assigned to the NYPD's 44th Precinct on March 15, 1994, when he was fatally shot while attempting to arrest two suspects for robbing a Bronx clothing store. The officer, who had been guarding a condemned building, was alerted to suspicious activity in the store and went to investigate. He confronted the two robbers, patted one down, and began to frisk the other, when the accomplice drew a firearm and shot P.O. McDonald, striking him at least five times. Mortally wounded, the officer stumbled from the store and managed to radio for assistance before collapsing. He died at a hospital a short time later.
Within 48 hours, the suspects — Javier Miranda and Rudolpho Rodriguez — were arrested and eventually sentenced to 25-years-to-life. Unfortunately, they committed their heinous crime between the time New York State's death penalty law had been declared unconstitutional and before the sentence of life without the possibility of parole for cop-killers was instituted.
Janet McDonald received a letter from the parole board on Monday (Sept. 13) notifying her that Miranda — denied parole after a hearing in April — was getting a new hearing on appeal. The family was told at the time that there was no decision yet on Rodriguez' parole request. On Wednesday the family was told that Rodriguez would be released on or around Oct. 12.
"Once again this parole board tortures the families of our fallen heroes," said PBA President Patrick J. Lynch. "It's the latest chapter in the board's shameful legacy in the Andrew Cuomo era."
Since December 2017 the board has sprung 22 cop-killers, including Rodriguez. Sean's brother Andy thinks it's no coincidence that the board's members and guidelines were revised at about the same time period. "When I've delivered my last couple of victim's impact statements,  I've noticed a perfunctory attitude when they listen to our stories. Like the evilness of the crime or the pain it causes are not factors to be considered."
Lynch added: "We call on Governor Hochul to appoint new parole commissioners, fix the broken parole standards and enact common sense policies that put crime victims first."