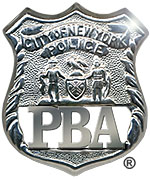 PRESS RELEASE
February 19, 2021
---
Hero Cop's family outraged over killer's parole
Twenty cop-killers freed in three years
The family of fallen NYPD hero P.O. Harry Ryman today slammed the New York State Parole Board and Gov. Andrew Cuomo over the upcoming release of Paul Ford, one of three men who murdered P.O. Ryman in 1980. Ford will be the twentieth cop-killer paroled by New York State in just over three years.
Margaret Ryman, P.O. Ryman's daughter speaking on behalf of the Ryman family, said:
"My family and I are beyond devastated at the decision to release Paul Ford. In addition to him murdering our father, weeks before that event he was arrested for threatening another cop with a sawed off shotgun but walked because the gun jammed and was inadmissible. Furthermore, this same individual was arrested for beating an elderly man within an inch of his life after robbing him. We find no rehabilitation in this level of evil, yet we have no true say against Governor Cuomo and his appointed Parole Board members. The parole of cop killers is a blatant disrespect to every officer who puts on a uniform. The victim impact statement truly bears no weight in the parole process and the Governor and his heartless Parole Board, especially Commissioner Cruse, should truly feel ashamed of themselves – but that emotion is too much to expect from the Governor or his minions. We continue to be victims, not just of the crime against our family, but by the Governor and his puppet Parole Board."
PBA President Patrick J. Lynch said:
"It's bad enough that this wonderful family has to live in fear of what might happen when P.O. Ryman's killers hit the streets.  But to swallow that fear while they watch their father's sacrifice be devalued and disrespected by the State of New York – that is cruel and unusual punishment."
P.O.  Harry Ryman, 43, was shot and killed on August 14, 1980, when he attempted to stop Ford and two other men ­– Barrington Young and Cornelius Bucknor – from stealing his neighbor's car. He was assigned to the 60th Pct. and had 17 years on the job.  Young was paroled in March 2020. Bucknor was denied parole in April but has challenged that decision and is now scheduled to receive a new hearing next month.
New York State Cop-Killers Released Since December 2017
John Ruzas — RELEASED 12/18/17
Killer of Trooper Emerson Dillon 
Herman Bell — RELEASED 4/27/18
Killer of PO Joseph Piagentini and PO Waverly Jones 
Carlos Flores — RELEASED 4/27/18
Killer of PO Robert Walsh
Robert Hayes — RELEASED 7/24/18
Killer of PO Sidney Thompson
Demetrius Bennet — RELEASED 10/24/18
Killer of PO Ray Cannon 
Judith Clark — RELEASED 5/15/19
Killer of Sgt. Edward O'Grady, POs Waverly Brown and Peter Paige
Larry Johnson — RELEASED 5/15/19
Killer of PO Anthony Abruzzo
Betsy Ramos — RELEASED 12/10/19
Killer of PO Anthony Mosomillo
Ernest Alston — RELEASED 12/26/19
Killer of PO Melvin Hopkins
Orlando Puente — RELEASED 1/6/20
Killer of Lt. Jan Brinkers
Barrington Young — RELEASED 3/27/20
Killer of PO Harry Ryman
Steven Chirse — RELEASED 4/21/20
Killer of PO Angelo Brown
Karl Dean — RELEASED 5/21/20
Killer of Det. Joseph Taylor
Russell Carroll — RELEASED 7/28/20
Killer of PO Robert Sorrentino
Sergio Voii — RELEASED 8/31/20
Killer of PO Michael Russell
Anthony Bottom – RELEASED 10/7/20
Killer of PO Joseph Piagentini and PO Waverly Jones 
Richard Dennis – RELEASED 1/19/21
Killer of PO Robert Denton
Rodney Bailey – RELEASED 1/21/21
Killer of PO Robert Bilodeau
Ronnie Bush – WILL BE RELEASED 2/24/21
Killer of PO Angelo Brown
Paul Ford – WILL BE RELEASED 3/21/21
Killer of PO Harry Ryman