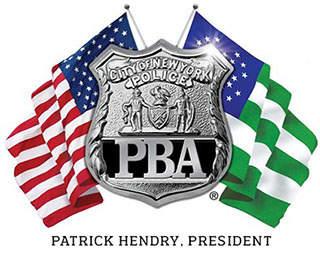 PRESS RELEASE
August 31, 2023
---
Charity leaders honored as NYC PBA's "Persons of the Year"
 PAID FOR THREE RECENT FALLEN HERO FUNERALS
Scott Colletti and Michael VanDenburg, co-founders of the Promise of Hope Foundation, were named the NYC PBA's "2023 Persons of the Year" today (Aug. 31) at the police union's 129th annual convention in Albany.
SEE PHOTOS AND VIDEO OF AWARD PRESENTATION & REMARKS
0:00 – Introductions (PBA First Vice President Daniel Tirelli)
2:26 – PBA President Patrick Hendry remarks
5:30 – Award presentation
7:15 – Scott Colletti remarks
7:53 – Michael VanDenburg remarks
PBA President Patrick Hendry presented the awards to the Long Island business partners and philanthropists for their charitable efforts on behalf of the families of fallen police officers, particularly in paying for the funerals of three recent NYPD heroes.
"Some people might not realize that after we bury a fallen hero, the family is left with a bill to pay," said Hendry. "Scott and Michael did realize that. Through their foundation, they paid the full funeral expenses for the families of three recent fallen heroes – Anastasios Tsakos, who was killed by a drunk driver in 2021, and Jason Rivera and Wilbert Mora, who were gunned down by an assassin in 2022."
"Through their generosity, they showed us the true meaning of the words 'we will never forget,'" he continued. "New York City police officers never forget our fallen heroes, and the Promise of Hope Foundation doesn't forget them, either."
"As a foundation, we decided never to be afraid to support what we believe in, and law enforcement is at the top of that list," VanDenburg and Colletti said. "When fallen officers' families are at their worst, Promise of Hope is at its best."
Colletti and VanDenburg, partners in a Long Island construction services firm, teamed up more than 25 years ago and took Scott's family-owned and operated business to the next level.
After several other business successes, they were inspired to give back to their communities through charitable endeavors, beginning with a 2004 project to build a brand-new orphanage for Sri Lankan children left homeless and parentless by a devastating tsunami. Colletti and VanDenburg were able to raise the necessary funds in just 45 days, an experience that led to the creation of the Promise of Hope Foundation in 2017.
Promise of Hope's mission is to provide assistance, encouragement and support to individuals, families and other foundations in need. In addition to paying the line of duty funeral expenses for three fallen NYPD officers, the foundation has contributed hundreds of thousands of dollars to support the families of fallen heroes through the New York City, Nassau and Suffolk PBAs' widows' and children's funds.
Previous recipients of the PBA's Person of the Year award include former NYPD Police Commissioner Keechant Sewell, Tunnel to Towers Foundation CEO & President Frank Siller, senators, governors and many other notables from government and law enforcement.
# # #The Police Benevolent Association of the City of New York (PBA) is the largest municipal police union in the nation and represents nearly 50,000 active and retired NYC police officers.