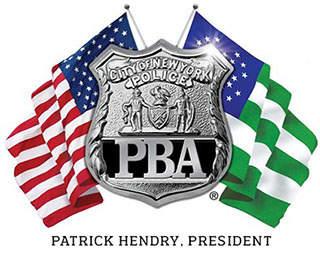 PRESS RELEASE
April 24, 2023
---
Cops vote in unison to approve new contract
85% TURNOUT WITH 98% IN FAVOR OF RATIFICATION
The members of the Police Benevolent Association of the City of New York (NYC PBA) have voted by an overwhelming margin to approve the union's proposed eight-year contract agreement with the City of New York, with turnout that is among the highest for any union ratification vote, nationwide.
PBA President Patrick J. Lynch said:
"The resounding support for this contract proves our union's strength and solidarity. Over the past six years, PBA members have endured the pandemic, riots, rising crime and a deluge of criticism. Through it all, our unity never wavered in our fight for fair market pay. That fight is still not over. We will continue our quest to return New York City police officers to their rightful place as the highest paid police officers in the nation. We look forward to returning to the bargaining table with the city in 2025."
The voting was conducted through electronic balloting supervised by the American Arbitration Association (AAA).  Voting closed at noon today with 18,519 of 21,861 members (84.71%) casting ballots and 17,921 (97.69%) voting in favor of ratification. This turnout far exceeds the NYC PBA's record turnout for its last contract agreement in 2017, when 77% of members voted. Union ratification votes nationwide frequently see turnouts of less than 50%.
The new NYC PBA contract covers the years 2017 through 2025 and includes 28.25% in compounded wage increases and an historic agreement to pilot a new working schedule for police officers.
# # #The Police Benevolent Association of the City of New York (PBA) is the largest municipal police union in the nation and represents nearly 50,000 active and retired NYC police officers.