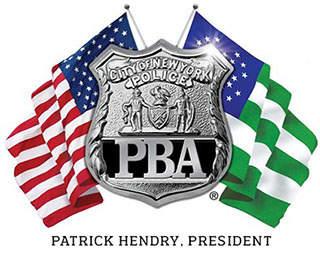 PRESS RELEASE
March 3, 2023
---
Hero officer's widow delivers first in-person parole appeal to keep cop-killer in jail
Today, for the first time in more than three years, the widow of a New York City police officer murdered in the line of duty was able to face the New York State Parole Board in person and plead with them not to free the man who killed her husband, NYPD Police Officer Gerard Carter.
SEE PRESS CONFERENCE VIDEO AND PHOTOS
Police widow Jozette Carter-Williams, along with P.O. Carter's mother Martha and his son Louis, delivered a victim impact statement before the board in the one of the first in-person appeals since the early days of the COVID-19 pandemic.
On the night of July 26, 1998, P.O. Carter, 28, was assigned to the NYPD Housing Bureau's Police Service Area 1A on Staten Island. He was sitting in a marked police van on Staten Island when his killer, parolee Shatiek Johnson, opened fire without warning.
This is Johnson's first appearance before the parole board. Johnson was on parole for a previous manslaughter conviction at the time he killed P.O. Carter.
According to figures compiled by the PBA, the parole board has released 35 cop-killers since 2017, thirty-one of whom killed New York City police officers. The PBA has collected and delivered nearly 8,000 petitions opposing Johnson's parole and is still accepting them via the "Keep Cop-Killers in Jail" tool at www.nycpba.org.
"There's no parole for Gerard," Jozette Carter-Williams said, "and there should be none for his killer."
NYC PBA President Patrick J. Lynch said: "It is no accident that the families of hero police officers have been kept out of this building long after the rest of the world opened up. It was part of a coordinated plan to silence the voices of crime victims. P.O. Gerard Carter was a hero killed for no reason other than the uniform he wore. His killer was a violent repeat offender who had already been given a second chance. He must not get another, not just for this family's sake, but for the safety of every New Yorker."
# # #The Police Benevolent Association of the City of New York (PBA) is the largest municipal police union in the nation and represents nearly 50,000 active and retired NYC police officers.