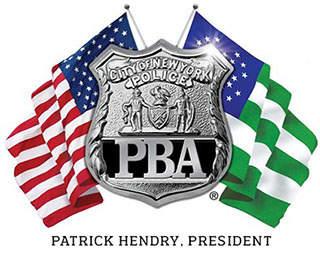 PRESS RELEASE
April 11, 2023
---
Lynch will not seek re-election
In an email message sent to NYC PBA members today, PBA President Patrick J. Lynch announced that he will not seek re-election when his current term expires in June.
Lynch's announcement comes less than a week after the PBA announced an historic eight-year contract agreement with the City of New York, providing a 28.25% pay raise and improved working schedules. That contract agreement is currently pending ratification by the PBA's membership.
Lynch noted that the 2025 expiration of that agreement would put the union in the middle of a new round of contract talks if he when he reaches his mandatory NYPD retirement in 2026.
"This decision is part of a philosophy I have long held: a rider cannot switch horses in the middle of a battle, and the PBA must not change leadership in the middle of a contract fight," Lynch said in the message to PBA members. "To remain true to my principles, I must allow the change to begin now."
Lynch is the longest-serving PBA president on record and is currently the longest-tenured leader of any major New York City municipal labor union.
He has served six terms as PBA president since being first elected in 1999 as part of a slate of reformed-minded delegates (the PBA equivalent of union shop stewards) from precincts around New York City. In the years preceding Lynch's election, New York City police officers suffered through three-and-a-half years of zero wage increases, while the PBA was marred by scandals that sent multiple union attorneys and advisors to prison on corruption charges.
Since taking office, Lynch has overseen collective bargaining agreements that have increased police officers' salaries by 127%, while simultaneously transforming the PBA into one of the most vocal and visible advocates for the law enforcement profession nationwide.
In the last contested PBA election in 2015, Lynch bested two challengers by obtaining more than 70% of the vote.
The PBA's bylaws require executive board members to be active NYPD police officers. NYPD members are required to retire before age 63. Lynch is 59 years old.
Candidates for all positions on the PBA's executive board must submit nominating petitions in May. Voting will open later that month, and votes will be tabulated in early June. The new president's term will begin July 1.
Lynch joined the NYPD in 1984 after first following his father, a subway motorman, into the New York City Transit Authority as a subway conductor. During his years on patrol, Lynch earned three Exceptional Police Duty awards and one Exceptional Merit Citation for his part in aiding two fellow police officers who had been shot by an assailant.
Lynch was born and reared in Bayside, Queens and is an alumnus of St. Robert Bellarmine Parish School and Msgr. Scanlon High School. He and his wife continue to reside in Bayside. Their two sons are both New York City police officers.
# # #The Police Benevolent Association of the City of New York (PBA) is the largest municipal police union in the nation and represents nearly 50,000 active and retired NYC police officers.