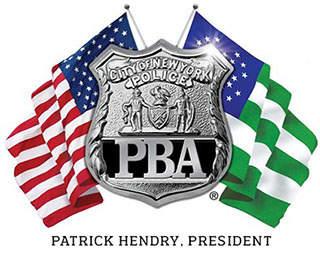 PRESS RELEASE
August 18, 2023
---
Police widow begs parole board: "He shot and killed my husband while on parole, and he wants to be paroled again?"
The widow of NYPD Police Officer Thomas Ruotolo went before the state Parole Board today (Friday, Aug.18) to deliver a heart-wrenching victim impact statement, arguing that the career criminal who was on parole for another killing when he mercilessly gunned down her husband on Valentine's Day, 1984, should never be granted the second parole he seeks.
SEE FULL VIDEO AND PHOTOS FROM PRESS CONFERENCE
"Tommy was not the first person George Agosto had killed," widow Mary Beth O'Neill told the board. "He was in prison for manslaughter when he was first paroled in 1982…Five months later he was rearrested with a gun in his possession while on parole. Six months after that, he was arrested again for burglary and resisting arrest while still on parole. Two months after that, on September 21, 1983, he was released from Riker's Island. Five Months later, on Valentine's Day – he shot and killed my husband while on parole, and he wants to be paroled again?"
"I beg you not to disrespect my hero husband's legacy," she continued. "I beg you to keep this city safe by refusing to let George Agosto continue his life of crime."
New York City PBA president Patrick Hendry, speaking at a press conference with the widow following her statement, echoed her remarks: "This should be an open-and-shut case for the parole board. This career criminal is living proof that when you release a cold-blooded killer from prison, he can and will kill again."
On the rainy evening of Feb. 14, 1984, Officer Ruotolo and his partner were patrolling the busy 41 Precinct in the Bronx when they responded to report of a stolen moped. They spotted the vehicle and its rider at a corner service station. Officer Ruotolo pulled his patrol car up behind the moped. As he and his partner got out of the car, the suspect immediately drew a revolver and opened fire. Officer Ruotolo, struck in the head, was killed. His partner and a nearby off-duty cop returned fired and were both also shot and wounded.
Agosto was apprehended when he showed up at a local hospital seeking treatment for gunshot wounds. He pleaded guilty to first-degree murder and two charges of first-degree attempted murder. He was sentenced to 40 years-to-life, because the sentence of life without the possibility of parole for cop-killers had not yet been enacted.
"Our justice system repeatedly failed by letting Agosto back on the streets," said the PBA president. "He must not be allowed to slip through the cracks again."
Hendry warns of the dangers to the public that result from a recent spate of released cop-killers. Thirty-six have been granted parole in New York State since 2017, he pointed out.
"Some of the most heinous assassins of New York City police officers are now walking the streets," he said. "This doesn't just affect the families of fallen police officers – it's dangerous for every New Yorker."
# # #The Police Benevolent Association of the City of New York (PBA) is the largest municipal police union in the nation and represents nearly 50,000 active and retired NYC police officers.