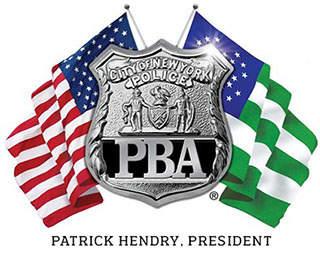 PRESS RELEASE
July 26, 2023
---
Shocking parole release for assassin of rookie Queens cop
Scott Cobb, one of the killers of P.O. Edward Byrne, to go free next month
Scott Cobb, a murderous participant in the 1988 assassination of NYPD Police Officer Edward Byrne – one of the most heinous and noteworthy cop-killings of the 20th century – has been granted parole and is about to be released to walk among us, the NYC PBA has learned.
This shocking injustice is personal for PBA President Patrick Hendry, who is assigned to Byrne's 103 Pct. in Queens and recalls passing the plaque with the young officer's image and story every day as he began his tour.
"All cop-killer paroles are infuriating," said Hendry, "but this one is especially outrageous considering the shockwaves this crime sent through this precinct, the NYPD, the city and nation."
"When Eddie Byrne was assassinated, it galvanized cops and the community to work together to take our streets back from these violent drug gangs," added Hendry. "That was Eddie Byrne's legacy, and the insane Parole Board is tearing it to shreds. New York City police officers are absolutely sickened by this parole decision, and New Yorkers who care about safe streets should be, too. We need you to speak up and demand that our elected leaders in Albany fix the broken parole system so that none of the other Byrne assassins go free."
Cobb's parole release is scheduled for August 9, according to online Parole Board records.
In the early morning hours of February 26, 1988, Byrne, in uniform in a marked police car, was protecting a valuable witness whose home had recently been firebombed to discourage him from testifying against drug-kingpin Howard ("Pappy") Mason. Cobb and three other assassins – David McClary, Todd Scott and Phillip Copeland – acted in concert to carry out Mason's orders to kill a police officer and send "a message to the cops" that his imprisonment would bring retaliation. Copeland directed the nefarious plot, with Mason pulling his strings. Cobb was the wheelman, driving the hit men to and from the scene. Scott's role was to distract Officer Byrne from his car's passenger side. McClary shot Officer Byrne five times in the head from point-blank range. They, along with Mason, are equally responsible for the heinous crime.
Mason continues to serve a federal life sentence without the possibility of parole. Copeland, McClary and Scott remain in prison, but all are scheduled to appear before the board in the near future: Copeland in September, McClary in October and Scott in January.
According to figures compiled by the PBA, the Parole Board has released 36 cop-killers since 2017, 32 of whom killed New York City police officers. Over the past five years, the PBA collected and delivered more than 27,000 petitions opposing Cobb's parole and is still accepting them for Byrne's other killers via the "Keep Cop-Killers in Jail" tool on this website.
# # #The Police Benevolent Association of the City of New York (PBA) is the largest municipal police union in the nation and represents nearly 50,000 active and retired NYC police officers.