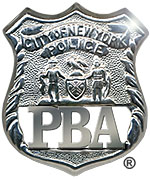 Contact: Joseph Mancini
212-298-9150
PRESS RELEASE
July 12, 2001
---
Another PERB Victory
The New York City Patrolmen's Benevolent Association (PBA) today won yet another significant and unprecedented court victory in its long legal battle to have its contract impasse with the city arbitrated by the State Public Employment Relations Board (PERB).
A five-member panel of the Appellate Division, Third Department, this morning unanimously upheld an April 16 Albany State Supreme Court ruling that the 1998 PBA-sponsored law giving PERB jurisdiction over the 27,000-member police union's contract disputes is constitutional. The PERB law also applies to the city's firefighter unions and the other police unions.
The city had argued that the measure violated the home-rule provisions of the State Consitution and that the City Board of Collective Bargaining (BCB) has jurisudiction over both impasse and scope-of-bargaining issues.
In a strongly-worded seven-page written decision, the court today called the city's arguments "unpersuasive" and "untenable," ruling that the state "clearly has a substantial interest in the speedy resolution of labor disputes between its muncipalities and their police and fire departments" and that the lower court "properly declared that PERB has exclusive jurisdiction over scope of bargaining disputes between the PBA and the city.
"…The Supreme Court correctly observed that accepting the city's contention would create the 'absurdity' of having 'two separate agencies on two different levels of government attempting to separately resolve the intertwined issues of scope of bargaining and impasse resolution," the judges wrote.
PBA President Patrick J. Lynch urged the city either to "return to the bargaining table with a realistic offer or prepare to arbitrate the impasse before PERB."
He added: "The sooner the city starts paying its police officers the decent and livable wage they deserve, the sooner it will solve its crisis in police recruitment and retention."
The court case began late last year after bargaining between the PBA and the city stalled after several negotiating sessions that began in the spring. The contract between the union and the city expired June 30 of last year.
The PBA has been demanding a 39-percent increase over two years to provide pay parity with Newark, N.J., arguing that a market adjustment is required to fairly compensate, recruit and retain New York City police officers, whose wages have fallen far behind those of cops in other large cities and in the surrounding suburban jurisdictions. The city has offered a 2.5-percent increase in the first year and 3-percent increase in the second year of the contract.
The city had filed a so-called scoping petition with the BCB, seeking to have some union demands and provisions of the expired contract declared non-mandatory subjects of collective bargaining. Under PERB, all provisions of the expired contract remain subjects for collective bargaining. Today's decision upheld that principle.